2012-2013 Meetings

These meetings were held between the fall of 2012 and the spring of 2013.




2pm, September 9, 2012
Ingrid Graff
Jane Austen at Home: Houses, Objects and Sense and Sensibility
When Jane Austen established herself in Chawton Cottage and found a home conducive to her creativity, a long-suppressed flow of writing was released. The first fruits of this renewed productivity was the revised version of Sense and Sensibilty, a novel very much about home, space and the synthesis created by new homes and marriage. Ingrid Graff will discuss these topics and look at the homes, the objects in them and the way people view them in the first of Austen's published novels.

2pm, October 28, 2012
Kara Dean
From JA to YA: Adapting Jane Austen for Young Adults

Kara has a blog about her interest in young adult literature.

As an added bonus at this meeting, Sandra Lerner will be signing her book, Second Impressions, written under the pen name Ava Farmer. She spent 26 working on this book, doing meticulous research. It is a sequel to Pride and Prejudice, set ten years after Jane Austen's novel. Sandra Lerner is famous among Janeites for rescuing Chawton House from developers, and established it as a center for the study of English women's writing.

3pm, December 16, 2012: Birthday Celebration
On the Actual Anniversary!
Elsa Solender
In honor of this auspicious day, Elsa Solender, past president of JASNA, will present her new novel JANE AUSTEN IN LOVE: An Entertainment. In this book blending fact and fiction, she explores Jane Austen's life and fills in some of the gaps by imagining Jane's sister Cassandra as the narrator. The book is available on Amazon as an eBook.

As an additional entertainment, Somerville's Theatre@First will present a scene from their recent production of Pride and Prejudice.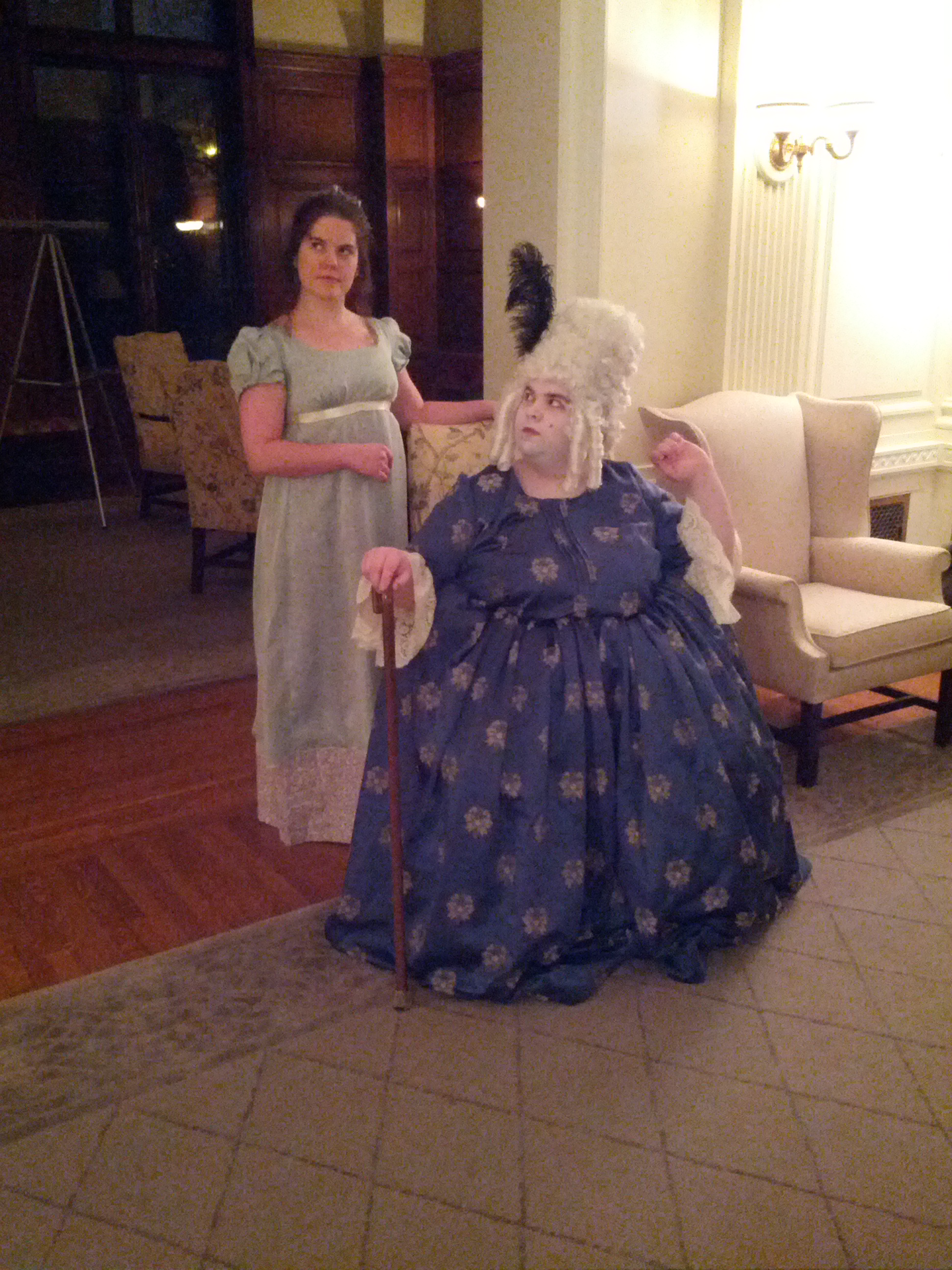 Brigid Battell as Elizabeth Bennet, and John Deschene as Lady Catherine de Bourgh, from Theatre@First.

2pm, March 10, 2013
Marcia Folsom
Professor of Literature at Wheelock College, Boston
Power in Mansfield Park:
Austen's Study of Domination and Resistance
Austen's supreme examination of power and of resistance to that power is Mansfield Park. Two works by James C. Scott, Weapons of the Weak and Domination and the Arts of Resistance: Hidden Transcripts, offer fascinating tools to identify ways that the powerful exercise their power in this novel, and the "weapons" used by the weak to resist coercion. This talk considers the "hidden transcripts" of Sir Thomas Bertram and Henry Crawford's thoughts, and of Fanny Price's spoken and silent resistance.

2pm, May 5, 2013
John Gould
The writer John Gould is a favorite speaker with the Boston region of JASNA. He has a web page describing his fascinating career. This talk is entitled This Little World - This England - and Jane Austen






Copyright 2010-2017 Jane Austen Society of North America, Massachusetts Region
Contact the Webmaster