Some of Our
Favorite Links

JASNA Massachusetts Facebook Page
Jane Austen Society of North America
The Republic of Pemberley
Jane Austen Centre, Bath, England
Austen In Boston: A Jane Austen Book Club


Articles by local JASNA members:

How I Came to See Fanny Price's Light

The Privilege of My Own Profession: The Living Legacy of Austen in the Classroom

Inherited and Living Variables: The Choices of Sisters and Brothers in Mansfield Park






Here's an interview in which William Deresiewicz discusses his memoir, A Jane Austen Education.




Click here to review the meetings that were held during:


Contacts



Regional Coordinator Jill Crowley
Regional Coordinator Carolyn Jack
Webmaster Carolyn Jack
Welcome
This is an open invitation to deepen your pleasure in and enrich your enjoyment of Jane Austen: If you really love Jane Austen, consider joining JASNA (The Jane Austen Society of North America) and JASNA Massachusetts, a local Region of JASNA. We welcome all who enjoy Jane Austen's works. Our JASNA Massachusetts Region is one of the many Regions of the national organization of JASNA, and includes all JASNA members who are residents of New Hampshire and Rhode Island as well as Massachusetts. We have many Austen scholars among our membership as well as those who simply enjoy reading Austen and sharing their pleasure with others.
We hold five events during our membership year: four regular meetings (September, November, March and May), plus a celebration of Jane Austen's birthday in December. These events usually consist of a talk or lecture lasting about an hour, followed by discussion and refreshments.
There is a nominal fee (usually $5) to attend meetings. Members of the national society may join the Massachusetts region for an annual fee in lieu of contributions at the door. To renew or start an annual Massachusetts membership, please return a check payable to JASNA-Mass for $15 (regular) or $7.50 (student) to Marianne Redmond, 198 Rock Island Road, Quincy, MA 02169. JASNA Massachusetts dues are collected annually (September to August)
All are welcome to pay their dues at the door. Those who are not members of JASNA Massachusetts can simply pay $5.00 for each lecture they attend.
We'd be very pleased to have you join us at our next meeting.





JASNA Massachsetts Regional Co-Coordinators
Carolyn Jack and Jill Crowley



JASNA Massachusetts long-time Regional Coordinator Nancy Yee has stepped down. Nancy has led the region with graciousness and diligence, and the membership thanks her for her many years of being at the helm. Two co-coordinators have been appointed to pick up the mantle. Jill Crowley and Carolyn Jack have been members of the steering committee for more than five years, and are committed to the continuation and growth of our region, and to offering the same high caliber and variety of speakers and programs that have proved so enjoyable. As always, members' input and support is welcome.

Meetings
The following events will all be held on Sunday afternoon at 2pm at Wheelock College, Brookline Campus, 43 Hawes Street, Brookline, MA. On the MBTA's green line, the Riverside (D line) train stop at Longwood, or the Cleveland Circle (C line) train stop at Hawes St. are conveniently close. Click here for driving directions.

We are very happy to present an excellent group of speakers this year. Additional details about their talks will be posted as they become available.



2pm, September 14, 2014
Deb Barnum, Regional Coordinator of JASNA Vermont Region

My Own Darling Child
200 Years of Publishing and Collecting
Pride and Prejudice


Deb Barnum is a former law librarian, now a bookseller of fine and collectible books, the Regional Coordinator for the JASNA Vermont Region, and an inveterate reader and collector of bibliographies. Here is a link to the Vermont JASNA region's excellent blog.

2pm, November 9, 2014
Iris Lutz, current JASNA president

Houses in Jane Austen's Life and Fiction


Iris Lutz, the current President of JASNA, is a long-time admirer of Jane Austen's work, who discovered JASNA in 1996 when the Tucson-based Southern Arizona Region was being formed. Iris served as the group's Regional Coordinator for five years and coordinated the 2006 Annual General Meeting on Mansfield Park. She has also served JASNA at the national level as Vice President for Regions and Vice President for Conferences. In her work life, Iris has focused on a career in marketing and product management for companies in the computer and software industries.

2pm, December 14, 2014
Celebrating Jane Austen's Birthday
Lady Susan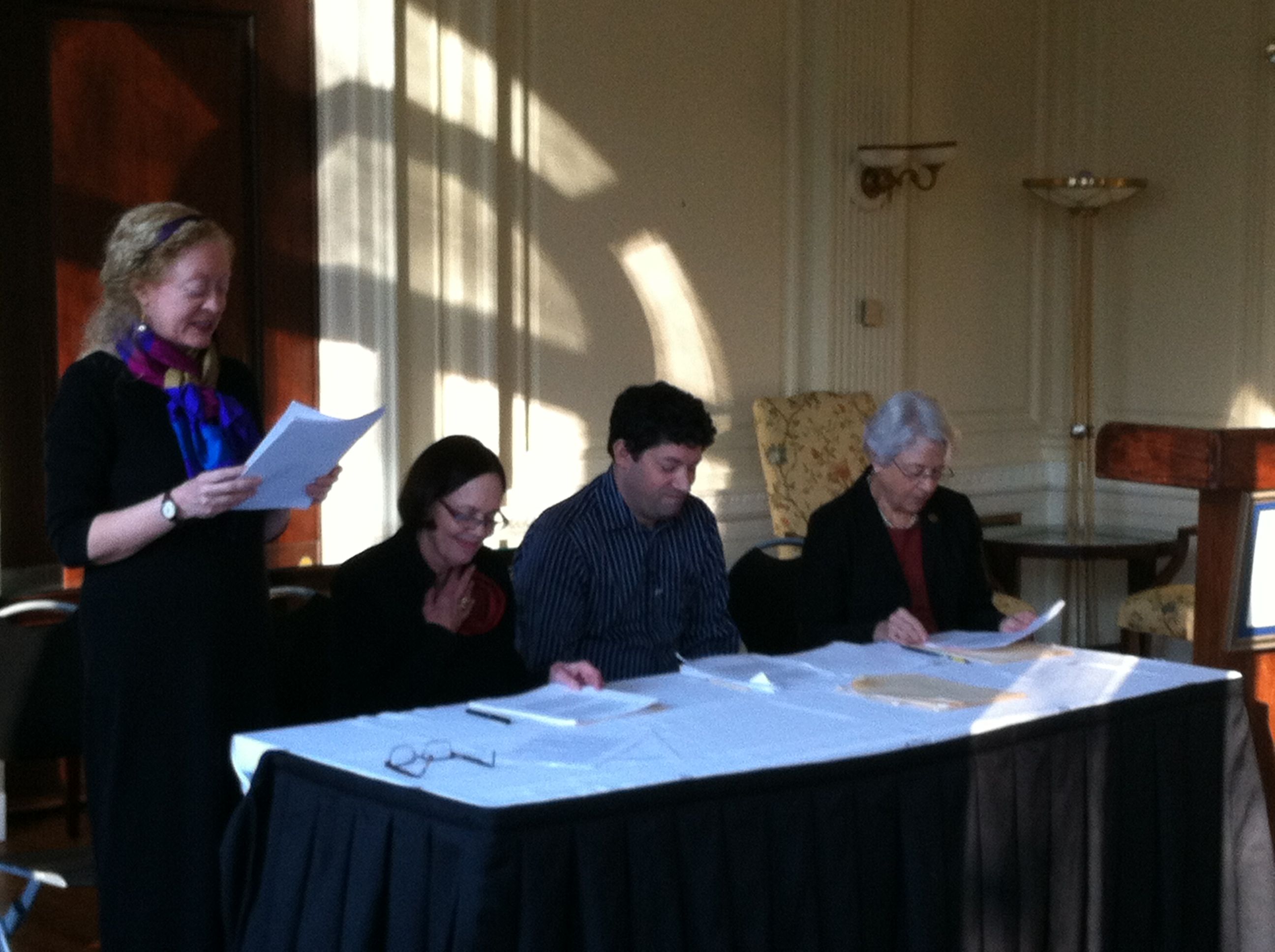 A delightful and hilarious reading of Jane Austen's early work, Lady Susan, adapted by Robert Moss and performed by members Jill Crowley, Marcia McClintock Folsom, Elizabeth Philipps, and Kirk Companion. After the performance, we will make merry and enjoy a special repast of sandwiches, birthday cake, and the traditional toast to Jane.

There will be a charge of $10 ($5 for JASNA Massachusetts members) for this special event.

2pm, March 15, 2015
Marcia Folsom, Chair and Professor of Humanities at Wheelock College, Boston

Teaching Austen's Mansfield Park in the Twenty-first Century:
New Contexts, Controversies, and Opportunities


Marcia Folsom is the editor of Approaches to Teaching Austen's Pride and Prejudice (1993) and Approaches to Teaching Austen's Emma (2004) published by the Modern Language Association. She is a frequent speaker at the JASNA Annual General Meeting, and her articles have been published many times in Persuasions. Marcia is a member of the JASNA Massachusetts Region and a member of the Steering Committee.

Next Meeting:

2pm, May 17, 2015
at Gore Place, 52 Gore Street, Waltham, Massachusetts

Claudia Johnson
Murray Professor of English Literature at Princeton University
JASNA Traveling Lecturer

'She Was Too Astonished to Speak': Jane Austen and the Unintelligible





Claudia L. Johnson specializes in Restoration and 18th-century British literature, with a special focus on the novel. She is also interested in feminist theory and gender studies. Johnson is renowned for her books on Jane Austen and Mary Wollstonecraft. She is a very popular speaker at Austen events.

Johnson's major books include Jane Austen: Women, Politics, and the Novel (Chicago, 1988) and Equivocal Beings: Politics, Gender and Sentimentality in the 1790s (Chicago, 1995). She also edited The Cambridge Companion to Mary Wollstonecraft (Cambridge, 2002) as well as editions of Jane Austen's Mansfield Park (Norton, 1998), Sense and Sensibility (Norton, 2002), and Northanger Abbey (Oxford, 2003).

She is working on her next book: Her Picture in the Exhibition at Last, about the vicissitudes of the controversial "Rice Portrait" of Jane Austen, its likely resolution through digital technology, and its entanglement in larger notions about how we think "classic" authors should look, and about the competing authority of families and museum, with vested interests in their positions and their property.



This event promises to be very special. An elegant and traditional afternoon tea will be served after the lecture, followed by tours of the historic federal-period Gore Place mansion.

We are pleased to offer a special price of $20 per person for JASNA members and their guests. Reservations are required, and seats are limited. Please send your check (payable to JASNA-Mass) to Marianne Redmond, 198 Rock Island Road, Quincy, MA 02169.



Claudia Johnson is the Avery Fund speaker for this season.

This event is funded in part by a grant from
the Jane Austen Society of North America





JASNA
JASNA's Annual General Meeting (AGM) takes place in the fall of each year in a different city in the United States or Canada. The AGM attracts about six hundred participants, bringing together scholars and lay readers of Austen to explore her life and works from multiple perspectives. Highlights often include a banquet, a Regency Ball, and various events around the host city.
Future AGM's
Louisville, KY USA, Oct. 9-11, 2015
Theme: Living in Jane Austen's World

Washington, D.C. USA, Oct. 21-23, 2016
Theme: Emma at 200: No One But Herself

Huntington Beach, California USA, Oct. 6-8, 2017
Theme: Jane Austen In Paradise

Kansas City, Missouri USA, Sep. 28-30, 2018
Theme: Persuasion: 200 Years of Constancy and Hope

To learn more about JASNA, our parent organization, visit www.jasna.org.